Standard Tour With Transport
Our standard tour allows you to explore the tunnel in an easy and enjoyable manner. The tunnel is in many places covered in large rocks and difficult to pass. A footbridge and several paths have been built over the roughest terrain making the standard tour accessible by all. Impressive lighting in this part of the tunnel highlights the changing colors and clearly shows the powerful volcanic activity that formed the tunnel.
This tour which includes transport has departures at 09:00 or 13:00 from the BSI bus terminal. Pick up from hotels / bus stop locations is at least 30 minutes before departure. Note the pickup is operated by Reykjavík Excursions and the bus is marked "Tour Pick Up". Each tour takes approximately 3 hours with 55 - 60 minutes inside the cave.
The standard tour with transport is at 09.00 from BSI bus terminal. The tour takes about 3 hours with approximately 55 - 60 minutes inside the cave.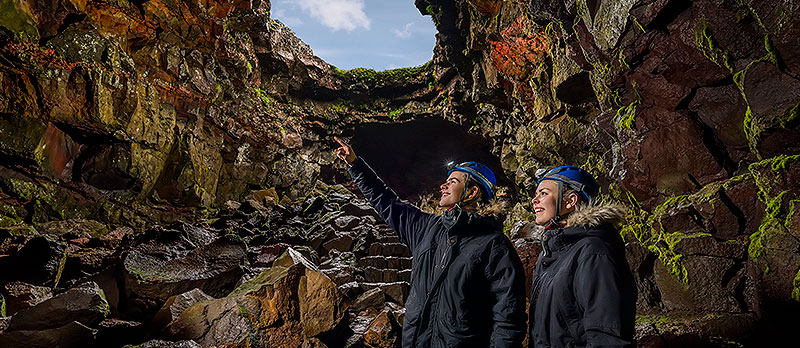 Helmets and lights provided. Warm clothes and sturdy shoes are recommended and bear in mind that there is usually some water dripping from the ceiling so wearing a water resistant or water proof jacket/clothes is recommended. It can also make a difference to bring a smile along the way…
Difficulty:
1/5
For most people although we do not recommend to those that have difficulties with balance, difficulties walking on uneven surface or difficulties walking up or down steep stairs.
Departures:
Every day at 09:00 and 13:00 from the BSI bus terminal. Pickup from hotels/bus stops available 30 minutes prior to departure.
Included:
Bus fare, guided caving tour (English), flash light and helmet.
Bring with you:
Warm clothes and sturdy shoes!
How to arrive at The Lava Tunnel
The tunnel is located about 40 - 45 minutes from BSI bus terminal from where the tour departs. We will drive from Reykjavík east on Route 1 and drive for about 18 km. Turn right onto Route 39 (Þorlákshöfn) and drive for another 12 km. The parking area will be on your left hand side. You can also find us on google maps. The GPS coordinates are: N.63º 56.407 / W. 021º 23.742