Iceland boasts some of the world's most spectacular scenery. If you're interested in film and TV locations, volcanoes, Arctic landscapes, winter sports, caves, birdwatching, marine biology, or Iceland's unique cuisine, you'll be fascinated by this beautiful island nation.
There are many exciting activities you can cross off your bucket list by visiting Iceland. Here are just seven.
#1. Follow in the footsteps of your Game of Thrones heroes
Many of the most iconic scenes in the hit TV show Game of Thrones were filmed in Iceland. You can visit the locations and walk around the places you saw on the screen. Have fun trying to match the reality around you to the CGI enhanced scenes in the show.
Many key scenes were shot in Thingvellir National Park, a scenic area overlooking Thingvallavatn, Iceland's biggest natural lake. Thingvellir is famous for its lava fields, ravines, forests, and springs. The beautiful trail through the Almannagia Gorge to Öxarárfoss Waterfall, one of the park's main attractions, was transformed into The Bloody Gate, an entrance to the Eyrie.
Iceland was perfect for filming scenes set north of The Wall. For example, Mýrdalsjökull Glacier to the east of Reykjavik was the setting for the Fist of the First Men. Mýrdalsjökull is a popular spot for ice climbing and glacial hiking.
#2. Explore a lava tunnel
If volcanoes and volcanic activity interest you, you'll love Raufarhólshellir. It is one of Iceland's longest lava tubes and located only 42 km southeast of Reykjavik. Raufarhólshellir offers you the unique opportunity to explore inside a 4,500-feet-long tunnel created during a volcanic eruption 5,200 years ago.
During winter, ice forms into beautiful natural sculptures adding to the magic of this unique location. As you walk along the tunnel, you follow the path taken by molten lava during the Leitahraun Eruption. Toward the end, the tunnel branches into three smaller tunnels where you will find spectacular lava formations.
Raufarhólshellir is also one of Iceland's many filming locations. It features in the TV series Sense8 and the 2014 movie Noah. Tours are operated year-round by The Lava Tunnel.
#3. Hike atop a glacier
You don't have to travel to the North pole to experience Arctic landscapes. You can enjoy the cold weather and breathtaking scenery in Vatnajökull National Park. Iceland's largest national park features Vatnajökull Glacier, which is a popular location for hiking and exploring seasonal ice caves.
The glaciers in Vatnajökull National Park flow into Jökulsárlón Glacial Lake on the south coast. This glacial lagoon is yet another Icelandic filming location and featured in films such as Batman Begins and Lara Croft: Tomb Raider. Tour boats enable you to come face-to-face with 100-feet-tall icebergs floating in the lake.
#4. See the Northern Lights
Iceland's location near the Arctic Circle makes it an excellent location to observe that mystical natural phenomenon we call the Aurora Borealis. Iceland's low population density means there is little light pollution to spoil Mother Nature's fabulous light show.
The lights are most visible during winter when the nights are long and dark. Local tour operators take minibuses out into the countryside in search of the best viewpoints. However, should you decide to venture out in search of this magical display, make sure you dress for cold weather conditions.
If you want to plan ahead and choose the best days to see the Northern Lights, check out the SolarHam website. This offers a 3-day geomagnetic forecast and a satellite map of where the lights are in real-time.
#5. Observe whales in the wild
Because of the underwater volcanoes of the Mid-Atlantic Ridge, the seawater around Iceland is surprisingly warm and an ideal environment for whales. Every year between April and November, migrating humpback whales come to feast on fish around Iceland's rugged coastline. Sometimes they even swim into the Westfjords and can be seen from shore.
The best way to observe these marvelous mammals in their natural habitat is on a whale-watching boat tour from Reykjavik year-round or from Akureyri and Húsavík in summer. The tour operators are so confident you'll spot whales, they often offer a free second boat trip if you don't. Some of these tours also sail past the uninhabited islands off the coast where you can see vast puffin colonies.
#6. Bathe in a hot spring
Although it can be dangerous to live near active volcanoes and lava fields, there are benefits. For example, Svartsengi Geothermal Power Plant uses geothermal heat to generate electricity and produce hot water. A byproduct of this plant is the renowned Blue Lagoon Geothermal Spa. There you can bathe in geothermally heated pools of mineral-rich water.
If you want to explore more benefits of geothermal power, consider trying hyerabrauo. This is a dark, sweet-tasting traditional Icelandic rye bread baked inside a pot buried in the ground beside a hot spring.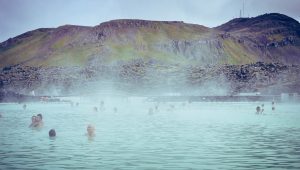 #7. Watch a geyser erupt
Did you know that the English word "geyser" comes from Iceland? Geysir Hot Springs is found in the Haukadalur Valley between Reykjavik and Skogar. When Geysir erupts, it shoots steaming hot water 230 feet into the sky.
However, Geysir erupts infrequently and sometimes does not erupt for years. If you really want to watch a geyser erupt, head for nearby Strokkur Geyser. This geyser is much more reliable and erupts every 6 to 10 minutes on average. Its spray of scalding water reaches 66 feet high.