The Golden Circle & The Lava Tunnel
See Iceland above and underground. Begin the day with witnessing the inner workings of a volcanic eruption while we walk in the path of a lava that flowed thousands of years ago. The lava tunnel is one of the biggest in Iceland and gets up to 30 meters wide and 10 meters high. The lava tube ceiling has caved in near the entrance, which creates beautiful columns of light. The fantastic range of colors of the tunnel wall is caused by the different mineral types of the rock.
This is a tour for the senses. Experience a new world, hear the talk of the cave and sense the forces of nature like you have never done before. Learn new things and step out of your comfort zone. Scenes from the Hollywood movie Noah, with Anthony Hopkins, were shot in this lava cave.
"We got an amazing full day with this tour, seeing the famous Golden Circle and the highlight of the day: The Lava Tunnel"
The next tour takes you to three of Iceland's most stunning sights; Gullfoss waterfall, Geysir geothermal area and Þingvellir National Park. The Geysir geothermal area boasts spouting springs, including Strokkur, the most active geyser in Iceland. All geysers in the world get their name from the now mostly dormant Geysir hot spring, from which the area also gets its name. At Gullfoss you are given the opportunity to stand next to the amazing waterfall, watching enormous quantities of water tumble violently into a deep, meandering gorge. Whether you take the morning or the afternoon tour, you will spend your time encountering a cross-section of Iceland's natural wonders and the famous Þingvellir National Park.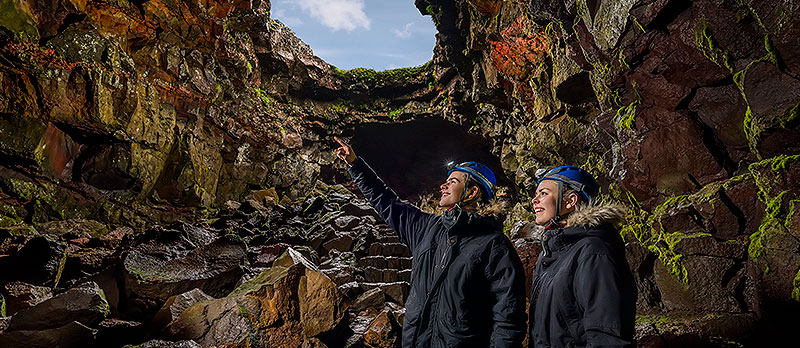 Difficulty:
1
The tour is accessible for most people. We do not recommend the tour to those that have difficulties walking up/down stairs or on uneven surface and snow. The Lava Tunnel is not wheelchair accessible.
Included:
Bus fare, Guided Golden Circle tour, 1 hour guided cave tour, Flashlight, Protective helmet. Pick up is up to 30 minutes before departure
Bring with you:
Remember to dress warmly and wear sturdy footwear. Bring some light food and drinks.
How to arrive at The Lava Tunnel
Select pickup location in the booking process. Pickup is provided to most of the hotels in Reykjavík, designated bus stops and the BSÍ bus terminal.