Caves & Volcanoes – Sightseeing Adventure
Caves & Volcanoes - Sightseeing Adventure Do you want to see unique, scenic, and easily accessible locations exclusive to Iceland in a small tour group?
Come along and see fields of moss-covered lava, visit a lake transformed by volcanic activity, walk along a boardwalk above volcanic steaming mud pots and fumarole, see volcanic craters, visit a church along a coastline shaped by lava flows, and explore the colorful insides of a giant lava tunnel.
Our best tour of our trip! Our group did both large tour groups and small. Personalized trips are the way to go. We had Eric - most amazing tour guide - who was knowledgeable about the cave and answered our many questions.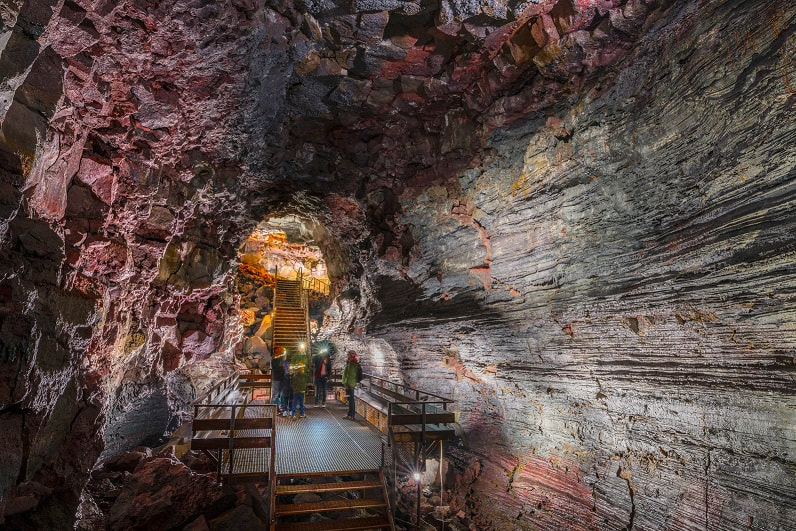 Join our 4 hour, small-group (maximum 12 people) sightseeing tour to the Volcanic Unesco Geo-park to see all these natural wonders caused by volcanic activity. Tour Highlights: ​The Black Lake Kleifarvatn Seltun Geothermal Site The Mystical Strandakirkja Coastline Raufarhólshellir Caving Tour (The Lava Tunnel)
Difficulty:
1
The tour is accessible for most people. We although do not recommend the tour to those that have difficulties with balance, difficulties walking on uneven surface (such as snow) or difficulties walking up or down steep stairs. This tour is not wheelchair accessible.
Departures:
09:00 and 14:30
Included:
A specialized guide in a 4x4 Mercedes Sprinter and hot chocolate at the end of the tour.
Not Included:
Food and drinks
Bring with you:
Good clothes and sturdy walking shoes. Light snacks and drinks.
How to arrive at The Lava Tunnel
The tour pickup is at designated bus stops in Reykjavik using Basecamp's 4X4 Mercedes Benz Sprinter for keeping you safe and comfortable in all weather and all road conditions.